Below you can find answers to some of the most common questions we receive about Australian Labradoodles, our puppies, and our adoption process. If you have additional questions not covered here please contact us. Puppy frequently asked questions can be found here.
How much do Mountain View Labradoodle puppies cost?
Our adoption price is $2,800.00. A $300.00 deposit is required when you submit your application to join our waiting list. The $2,500.00 balance is due once we have matched you with a puppy when they are 6 weeks old. 
Can I have my puppy shipped or do I pick it up?
There is a $375.00 shipping fee to have your puppy shipped to a major airport. This covers the cost of a crate, airfare, and required health certificate. We prefer to have you pick your puppy up at our location outside of Sisters, Oregon however we recognize that in some cases this is not possible and you may request to have your puppy shipped to you.

How do you match puppies to families?
We work with these puppies every day from birth until the day they go to their forever homes. We make notes throughout their life with us to note their personalities and behaviors as we put them through various temperament tests. Once the puppies are 6 weeks old, we do one final temperament test them and then match them to families based on their individual personalities and the requests you have made on your application. With our over 17 years of experience matching Labradoodles with their forever homes we have found that personality fits are far more important than looks or gender interests. We feel this is the best way to match you with a puppy that meets what you would like and that has a temperament best suited for your family. 
After we have matched each puppy with their future family we will send an e-mail out with their final photo shoot as well as information about this puppy. Due to the safety of our puppies we do not accept visitors during this matching process (see below for the reasons of not visiting our facility before puppy pick up day). We stay in communication with each family on our reservations lists and try to verify every characteristic, color, and gender requests you may have. The process from birth to matching is an opportunity for us to understand you a bit more as a customer and aiming to match you with not just any puppy, but one of the best!
What if I don't like the puppy I am matched with?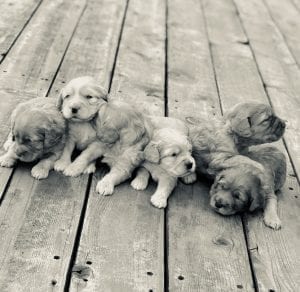 We want to make sure you get the perfect puppy that will enrich your home. If you don't get matched with a puppy that meets your criteria (gender, color, temperament, etc) from the current litter, we will move you to a wait list for the next litter that will match your criteria. Applications are filled in the order received once approved and the deposit is paid.
Can we visit your facility and see your puppies and breeding dogs?
We are very concerned about the health and well-being of our puppies so we have decided it is in their best interest for overall health and wellness not to have visitors prior to them being vaccinated (at 7 weeks of age). Parvo virus is deadly to puppies and can be unknowingly tracked in by car tires and/or tennis shoes. It is also not fair to a new mama to expect her to tolerate visitors while she is doing her best to care for and protect her babies.
As to the parent dogs; all of our breeding dogs live in guardian homes so that they live a normal family dog life and the only time they are here with us is either when they are breeding or delivering a litter of puppies and raising them. This is a fabulous way for our breeding dogs to be able to live a normal life and not in kennels. All of our puppies are whelped inside of our home and then later move to an indoor/outdoor space where they can learn to sleep in a crate and be exposed to outdoor sights, sounds and environment.
We try to do our very best to provide quality portraits of all of our breeding dogs and constant updates of our puppies through our blog and social media. This way you can still see and connect with the litter while helping us keep them safe!
I can't decide between a Labradoodle or a Goldendoodle?
Many people have asked us, "What's the difference between a Labradoodle and a Goldendoodle?"
We would say it's more of a dog-by-dog basis, rather than breed specific. What we recommend is to make sure there is excellent temperament and breeding of the Labradoodle or Goldendoodle parent dogs. If so, there will not be huge differences. Either one will be a great choice for your new family pet.
Is my puppy spayed/neutered prior to my adopting him/her?
No. We sell our puppies on a strict spay/neuter contract that requires  you have your puppy altered no later than 6 months of age. This allows you the option of having it done earlier if you choose to, but it is done before your puppy reaches sexual maturity. After countless years of personal study and consultation with multiple vets and breeders both locally and nationally we feel this is in the best health interest of your puppy and will prevent any unplanned, unwanted litters of puppies. This is a non-negotiable policy, but also allows you the option of choosing when works best for your family and puppy during those first 6-months. 
Can I choose to wait past 6 months to spay/neuter my puppy?
No. We have strict policies that require you to show proof of the spay/neuter by the puppies 6 month birthday. Many different vets have differing opinions about the ideal time to spay/neuter a dog but after over 17 years of breeding Labradoodles and consulting with both local and national vets and fellow breeders we feel very strongly that's it's important to have the female dog spayed prior to her first heat as this helps protect against mammary cancer. We are committed to not having any of our dogs contribute to the unwanted dogs of the world and therefore want all of ours spayed prior to a heat to avoid any "accidental" litters of puppies. We have had many dogs go into heat in the 7-8 month and it's not healthy for them to be getting spayed at that time when they are engorged with blood. s for the males, they can sexually mature and sire a litter of (unwanted) puppies as early as 6 months of age. Neutering them prior to 6 months can also prevent them from developing some of those unwanted male traits of lifting their leg to potty, humping objects, and being overly interested in the girls.
We feel this is in the best interest of the both the male and female dog and a very healthy option. Your vet may disagree with this stance and we encourage you to find a vet that will honor this policy prior to even receiving your puppy. For all of these reasons we have adopted the policy to set the timing for the spay/neuter at or before 6 months of age. We have had many puppies over the years (over 1,000 over the time of Mountain View Labradoodles) and we work with countless breeders with similar experience. We have not ever seen any negative consequences to having our dogs spayed/neutered by this age and believe it truly is in the best interest of the dog and owner.
How big will my Australian Labradoodle get?
Miniature:
Weight: Female – 20-30 pounds; Male – 25-35 pounds.
Height: 14-17″
Medium:
Weight: Female – 30-40 pounds; Male – 35-45 pounds.
Height: 17-20″
Standard:
Weight: Female – 45-65 pounds; Male – 50-70 pounds.
Height: 20-26″
Life Expectancy:
Labradoodles may live for approximately 12-15 years
Are the puppies vaccinated and micro chipped?
No. All of our puppies receive the initial puppy vaccine and worming and they will have a wellness exam with our veterinarian. We believe that micro chipping your puppy should be your decision as many of our buyers choose not to have this done. We recommend if you choose to microchip that you wait until your puppy is older (perhaps during the time of the spay/neuter at 6 months of age).
Are Australian Labradoodles good family pets?
We believe they are one of the best family pets you will find! They are very friendly and have a gentle disposition. They are curious, quick learners and take well to training. They love people and their people become their "pack". They want to be where their "pack" is whenever possible which makes for plenty of companionship.